Mobile pet grooming in Palm Beach and Broward County
The Apple Pet Grooming Mobile Spa brings the style and flair of a fine salon to the privacy of your home.
Schedule an appointment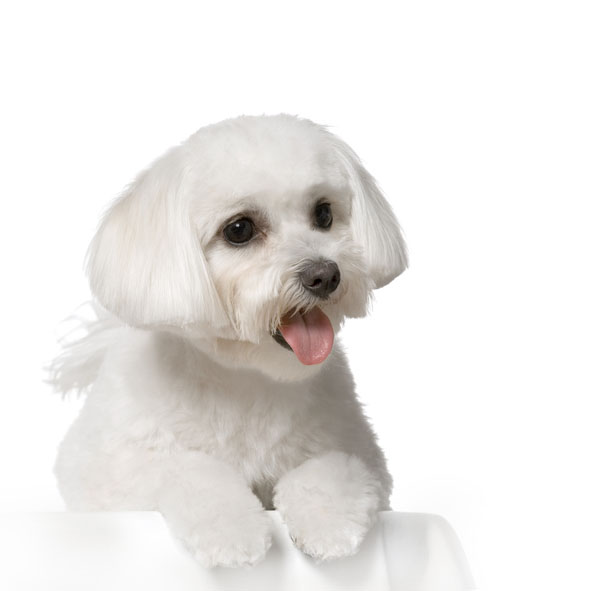 A message on COVID-19
We here at Apple Pet Grooming understand the growing concern surrounding COVID-19. Your pet(s) are part of your family and should be treated as such.
We love pets, and we're passionate about the service we provide to them. This means that every day, as part of our regular operations, our van is cleaned and sanitized. We're taking additional steps to keep pets and people safe as we come out to groom your pet(s). We have asked our groomers not to enter anyone's home, and if necessary, just inside the front door. Our groomers follow regular cleaning practices using a disinfectant formulated to kill coronavirus, among other germs. Plus, we'll continue to follow the steps below:
Cleaning and disinfecting all grooming tables, tubs, and grooming tools between every groom
Having groomers wash their hands prior to and once they come back from picking up your pet(s)
Wiping down their iPad and/or Phone after each groom appointment
Wearing masks and gloves
We will continue to refer to the Centers for Disease Control and Prevention, the World Health Organization and other public health agencies to determine the safest course of action for everyone we are grooming for.
As of today, there is no evidence that pets can spread COVID-19. For the latest information about coronavirus and pets, we encourage you to visit the link below: https://www.cdc.gov/coronavirus/2019-ncov/faq.html#COVID-19-and-Animals
We bring grooming right to your doorstep
The Apple Pet Grooming Mobile Spa brings the style and flair of a fine, up-scale salon to the privacy of your home or office where your pet will receive the professional, personalized and uninterrupted attention.
Rest assured that you and your pet will feel at ease with our clean environment, state-of-the art facility, and modern grooming conveniences. During your appointment, feel free to come in and inspect our mobile salon to be confident that you and your pet are completely comfortable with our surroundings.
With our expertise, you can expect your pet to look his or her finest.
Full-Service dog grooming includes:
Gentle Bath With Massage w/ All Natural Shampoo and Conditioner
Nails Cut & Filed
Face Trimmed
Sanitary Trim
Pads Trimmed
Ears Cleaned & Hair Removed
Thorough Brushing and Comb-Out
Standard Breed Clip and Scissor Finish
Hand Fluff Dry
Signature Fragrance
Flea and tick treatment
Express anal glands
Teeth brushing
The Furminator De-Shedding Treatment
...we do cats too!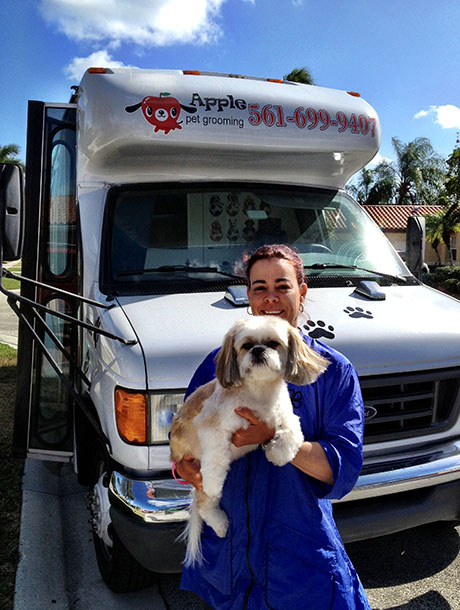 Hi, my name is Yami and I am the groomer of Apple Pet Grooming Mobile Spa. I attended and graduated Merryfield School of Pet Grooming in Fort Lauderdale.
"Yami rocks. We relayed our thoughts to Yami and the results were perfect - exactly what we had envisioned! There wasn't one mediocre aspect about our experience; it was perfect - and not overpriced. We will definitely call her back - thank you so much!"

Andy Diaz


Royal Palm Beach, FL

"Highly recommended! Yami bathed & groomed my Basset Hound from head to toe (tail) better then any drive to groomer. The van was impeccable, it was a stress free experience for both of us. No cage or having to commute. I we will definitely make an appointment again."

Pam

Royal Palm Beach, FL
Your Pet Feels At Home Because Your Pet Is At Home
Apple pet grooming brings the complete grooming service of a fine, state-of-the-art salon in a van to the privacy and convenience of your home or office where your pet will receive the professional, personalized and uninterrupted attention of an experienced and certified groomer.
Animals are not caged - free
Relief of stress from travel and noisy visits to grooming shops. No messes in your car. No separation anxiety.
Your pet is handled in a clean and sanitized environment
No contact with other animals. We do our best to accommodate our customers busy schedules
No cage-drying
We use all natural green products
Schedule an appointment
E: [email protected]
P: +1 (561) 699 9407
Give us a call or send a message, we endeavour to answer all enquiries within 24 hours on business days.